White Lotus continues to pray for the well-being of all …
May every being ailing with disease / Be freed at once from every malady /
May all the sickness that afflicts the living / Be instantly and permanently healed.  ~Shantideva
Please note: White Lotus Buddhist Center is currently closed due to the recent fire in the building we occupy and the increase in the COVID-19 virus. Dharma Talks and practice continue via FB livestream and Zoom.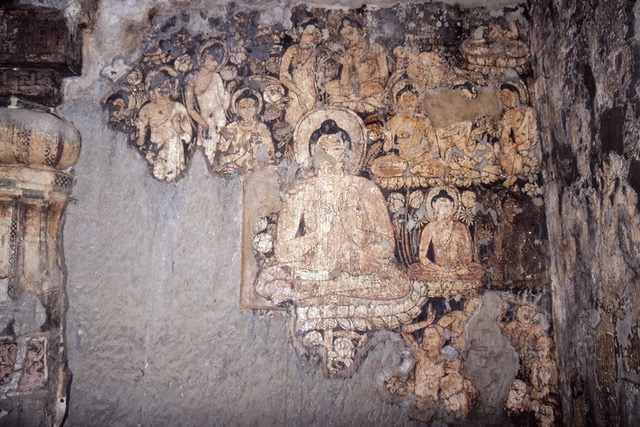 Fifteen Days of Miracles at Shravasti
The first full moon in the Tibetan lunar calendar is celebrated as the Day of Miracles, or Chotrul Duchen, which commemorates the final day of miraculous display by the Buddha which lasted 15 days. The Buddha performed the miracles (in ancient Shravasti) in response to a challenge from six rival teachers. Each day during this period White Lotus will send out a description of the miracle performed that day.
LOSAR
Tibetan Year 2148, Year of the Iron Ox
Begins February 12
February 12: LOSAR CELEBRATION 7:00 PM Lama Chopa Tsok,  Join via zoom
February 12 through March 12  Mantra accumulation: Om Mani Padme Hung . . .  (see schedule below)
February 13 – Tibet Slide Show 7:00 PM – slides from the trip sangha members took to Tibet in 2019. For a zoom link please email info@whitelotusdharma.org.
February 27  Chotrul Duchen: Day of Miracles – Madhyamaka Teaching by Khenpo Molam.  Join via zoom.
LOSAR White Lotus events: Expand the box and read about them Here
February 12: LOSAR CELEBRATION 7:00 PM Lama Chopa Tsok
February 13 – Tibet Slide Show 7:00 PM – slides from the trip sangha members took to Tibet in 2019. 
February 27  Chotrul Duchen: Day of Miracles – Madhyamaka Teaching by Khenpo Molam 
February 12 through March 12  Merit accumulation 
The first month of the New Year are merit-multiplying days in which any virtue created is magnified millions of times.
Merit – Buddhist practitioners often take a vow to perform a particular virtuous activity for the first month of the New Year – such as refraining from eating meat one day/week, or committing to a certain number of mantra recitations over the month. This year White Lotus will engage in a Mani Mantra Recitation.

We invite you to join the sangha in accumulating 500,000 recitations of OM MANI PADME HUNG, the mantra of Chenrezig, Bodhisattva of Compassion, during the month. This is the number needed to complete the million mantra recitation that was begun earlier last year. If even 10 people commit to reciting 18 malas per day we will more than reach that amount. If 15 people participate, that number is 12 malas per day!

 Join us in this accumulation on Tuesday and Thursday evenings via Zoom AND on your own as well. Then, report your recitations on the button here on the website OR send your totals to info@whitelotusdharma.org
Report your Mani Mantra Accumulations
(for more info read the Losar box above)
Update!

 
White Lotus more than met the matching Challenge with a total of $35,000 raised in approximately two months. Thank you to everyone who supported the challenge!
We still have a ways to go to accomplish our goal of a permanent dharma center for White Lotus and home for Khenpo Molam. For more information on the Building Fund AND to read a message from H.E. Garchen Rinpoche concerning the future of White Lotus Buddhist Center:
Click here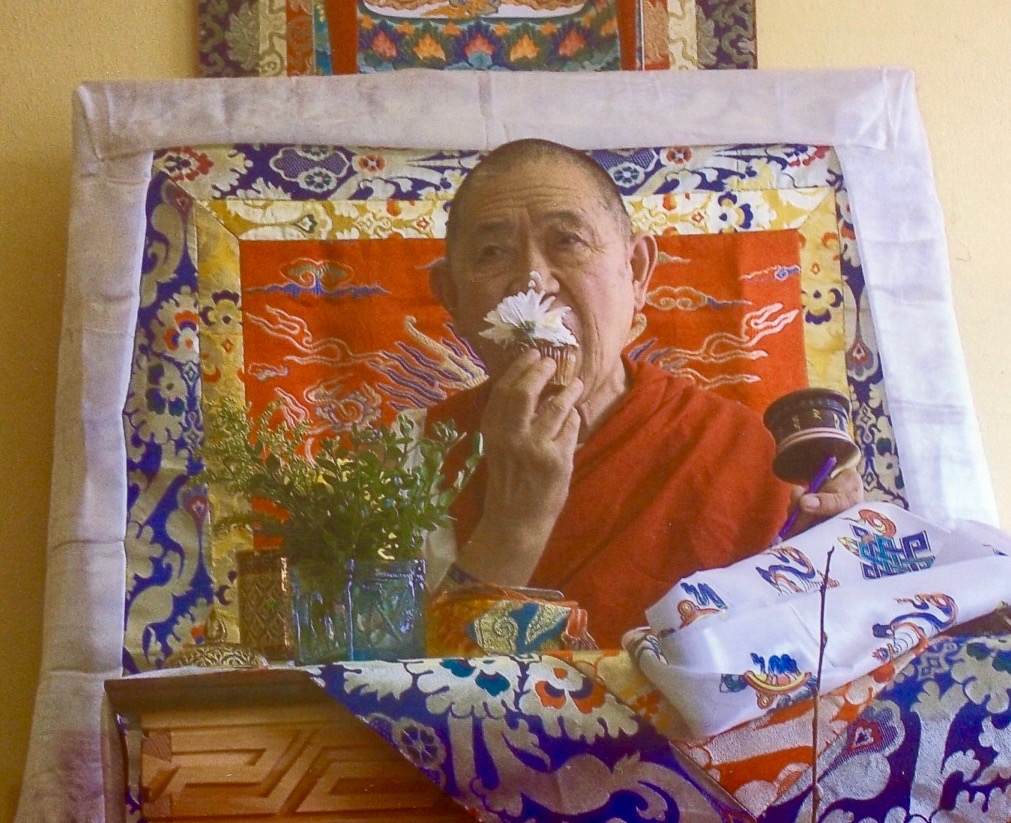 Now you can donate to White Lotus while shopping on Amazon! Choose White Lotus Buddhist Center as your charity when shopping: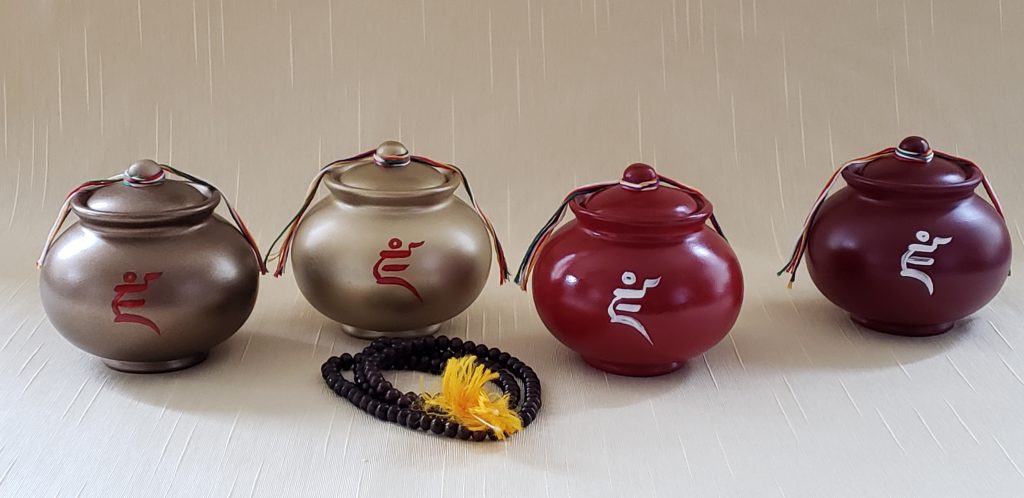 Dzambhala Prosperity Vases – blessed by H.E. Garchen Rinpoche at White Lotus in 2018
These vases were filled according to traditional instructions by Khenpo Konchok Molam and White Lotus sangha members. They contain many precious substances, were consecrated over two days at White Lotus Buddhist Center, then blessed by H.E. Garchen Rinpoche when he visited in 2018.
Every purchase is a donation to benefit White Lotus Buddhist Center and it's work.
Thank you!
Read H.E Garchen Rinpoche's teaching on treasure vases:
So, now Khen Rinpoche (Khenpo Monlam) has prepared these prosperity vases for the Center. This is a really wonderful thing as they bring a lot of benefit, a lot of blessings.
There are three ways to understand what a prosperity vase is. First, it is a palace for the deity. Then secondly, it becomes the deity itself. And thirdly, it is an offering. It is a source of infinite offering goddesses who come and present whatever offerings are needed or wished for. These three qualities are shared by both vases and stupas. In addition, they have been consecrated according to Dzambhala and are embued with blessings from the deity. Having one of these vases in your home, you can play the Dzambhala mantra day and night. The vase will bring blessings both to the beings in your home and the outer environment. So it's a really wonderful thing to have a vase like this.
When we talk about Dzambhala and wealth practices, basically we're saying that we need love because the world can be full of material wealth and yet without love there's no happiness. So, when we say prosperity or good fortune, what we're talking about is love because that's what brings happiness. Otherwise, without love you can have a hundred million dollars and just be a hungry ghost.
Please include a message (or send via info@whitelotusdharma.org) with your choice of color and to which address it should be sent. Thank you. Your support is appreciated!
$140 (includes shipping within the U.S.)